Elementary Workshop Clinician
2018-19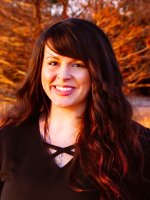 Ashley Reichenborn
Ashley Reichenborn graduated from Wichita State University with a Bachelor of Music Education in Special Music Education with an emphasis in Percussion. She also received her Kodaly Certification from Wichita State University and has completed World Music Drumming levels I-III. Ashley currently teaches at the same building where she began her career in 2012: Buckner Performing Arts & Science Magnet Elementary. At Buckner, Ashley has an extracurricular group of drummers that perform throughout the Wichita community. She also has the pleasure of co-directing the percussion program at the Boys and Girls Club of South Central Kansas. Ashley is a performing musician with different groups around Wichita. In addition to teaching and performing, Ashley has taken on the project of helping to plan and teach an annual music workshop through Envision for adults and children with visual impairments called, "The Beat Goes On." Ashley believes that music is for everyone. She strives to give back to children, young adults, and grown-ups in a way that will inspire a lifelong passion for music.
---
African-based Drumming and Rhythmic Activities for Any Music Classroom
African music is at the heart of American music and resonates with most all young people. Whether there are tubanos at your school or not, this workshop will give you the content and technique to take on rhythmic ensemble work in your classroom. Learn teaching strategies that encourage respect for instruments, musicians, cultural context, and musical parts within an ensemble. Join us in creating a healthy rhythmic and drumming culture within your classroom.