Message from the President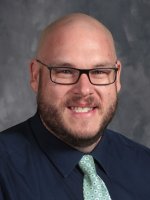 Greetings. My name is James Hollingsworth and I am proud to be beginning my term the South Central District President. A special thank you to Greg Bergman, who has done a remarkable job as President. I certainly have big shoes to fill. I am joined by our board members and ensemble chairs, who are some of the best and most dedicated educators in our state. Please take a moment to check out all of the incoming board members by clicking "About" and selecting "District Officers". A big thank you to all of the outgoing chairs. Your hard work and determination will surely be missed.
Use the "Calendar" tab to check out important dates for the coming school year. Our first big event is our August Kick-off event that will be at Augusta High School on Saturday, August 26th. If you have never been to this event, it is a great way for new and "experienced" teachers to meet and discuss the various issues facing our profession today. We break into ensemble groups to discuss specific dates and topics to help our school year start off on the right foot (or left if you teach marching band). I hope to see you there!
It is truly an honor to represent the great teachers of this district. Have a great rest of the school year and keep making music!
James Hollingsworth
SCKMEA President
Attention New Teachers!
-
JOIN the Mentoring Network
CONNECT
with experienced mentors and fellow beginning music educators. —
ENGAGE
in professional learning through mentoring events and online discussions. —
ENJOY SUPPORT AND ENCOURAGEMENT
from a professional community that is committed to your success.
Mentoring Events
Check out these events designed for first and second year teachers.
Mentoring Help Line
Contact your district mentor chair if you have a question or need resources or help.