High School Jazz Band
1234A Clinician
2023-24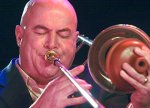 Jeff Kidwell
University of Central Oklahoma
Jeff Kidwell is an instructor with the University of Central Oklahoma's School of Music in Edmond. His duties include Trombone instructor, Trombone Ensemble director, Instrumental Music Education coordinator, director of Jazz Ensembles, assistant director of Jazz Studies, and assistant director of Jazz Lab Operations. From 1998 to 2006, Kidwell served as assistant director of Bands with the Edmond Public Schools. Here, his duties included Marching Band, Symphonic Bands, and Jazz Ensembles at the high school and middle school levels. Prior to coming to Edmond, Kidwell taught in the Norman Public Schools, The University of Oklahoma and Oklahoma City University. Kidwell is a third generation Oklahoma music educator. Both his father and grandfather were band directors in the state, and his mother was a vocal music teacher in rural Oklahoma. He credits his love of music and the trombone to his parents, public school and college teachers.

Kidwell is a highly sought after musician/clinician who has performed with the Count Basie Orchestra, The Temptations, The Four Tops, Aretha Franklin, Pete Fountain, The Supremes, Branford Marsalis, Randy Brecker, Clark Terry, Phil Woods, Toby Keith, Wayne Newton, Vince Gill, Amy Grant and many others. He also performs for "Lyric Theater," "The Oklahoma City Philharmonic Orchestra" and "The Civilized Tribe Dixieland Band." Kidwell has also been a musician for Norwegian Cruise Lines and played for National tours of Broadway musicals such as "Wicked," "Peter Pan," "Spam-A-Lot," "The Will Rogers Follies," "The Rat Pack," "Shrek," "The Adams Family," "The Book of Mormon" and Oprah Winfrey's "The Color Purple." Kidwell is a top call studio musician and functions as trombonist and arranger for one of the Southwest's top party and show bands, Souled Out.

Kidwell is a Conn-Selmer Artist and has been a featured clinician and educator throughout North America including the Midwest Band and Orchestra Clinic, the Brandon Jazz Festival in Brandon Manitoba, the New Mexico State Jazz Ensemble, the OBA-OKJE All State Jazz Ensembles, the Tri-State Music Festival, and the Oklahoma Summer Arts Institute Honor Jazz Ensemble.