High School Orchestra Clinician
2021-22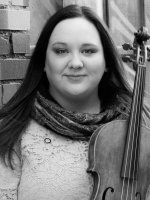 Alison Mayes
Colorado native Alison Mayes discovered her passion for string teaching through a high school internship program that she co-founded with her high school orchestra director and mentor in Grand Junction. She has been a teacher in Colorado's schools for 13 years, most recently as Founding Orchestra Director at Parker Performing Arts (PPA, a K-8 school) in Douglas County School District. Since its opening, Alison built the PPA string program to include 179 students in 2019-2020 (grades 3-8) from just 49 students in its first year. Alison was also chosen as the 2017-2018 DCSD Apple Award nominee from all of the staff at PPA. She has since moved on to be full-time faculty at Avanti, having taken over the Avanti Youth Orchestra in September 2019.
Alison is Director of Camp Con Brio, String Camp of the Rockies; having been on the camp staff since 2001. She has also been on the teaching staff at summer music programs in New Mexico and Michigan. Alison has previously served as Chair for the Colorado High School All State Orchestra, Music Director for the Longmont Youth Symphony String Ensemble, and is currently the Immediate Past-President of the Colorado Chapter of the American String Teachers Association (ASTA). She earned the degree Master of Music Education from the University of Colorado at Boulder in 2016.
From 2010-2016, Alison was Orchestra Director at Grandview High School in Cherry Creek School District, where the enrollment of string students more than tripled during her six-year tenure. Under her baton, the Grandview High School String Orchestra performed at the American String Teachers Association's National Orchestra Festival in 2015. In December of that year, the Grandview Chamber Orchestra had the honor of performing at the Colorado Association of School Boards Conference.
Alison received the 2015 Outstanding String Teacher of the Year Award from Colorado ASTA, and the 2020 Elizabeth A. H. Green School Educator Award from National ASTA.
Alison considers herself very fortunate to have been a part of some incredibly special and memorable performance opportunities. Among these, she was a member of the "Ghost Orchestra" in 2016 (playing alongside violinist Tom Hagerman of Devotchka) at Red Rocks Amphitheater for the Grammy-nominated South African-American singer-songwriter Gregory Alan Isakov. Additionally, she has performed in New York City under the baton of Marin Alsop at Times Square during the 2017 Carnegie Hall Music Educators Summer Workshop.
Alison is a frequent guest clinician, presenter, adjudicator, teacher, sectional coach, and conductor for honor ensembles and festivals; both statewide and nationally. Alison just LOVES being a part of the Avanti teaching family. Aside from teaching and performing, she loves cooking, Colorado Symphony concerts, crafting, trying different cuisines, traveling with her husband Jason, and spending time with their beloved dogs.